Top Ten Hobart Sights
Wellington Park
Louisa's Walk
Bonorong Wildlife Sanctuary
Cascade Brewery
Salamanca Market
Battery Point
Museum of Old and New Art
Royal Tasmania Botanical Gardens
Richmond Maze and Tea House
ZooDoo Fun Park.
TOP TEN TASMANIA SIGHTS
Bay of Fires
Port Arthur
Freycinet National Park
Salamanca Place
The Nut
Hastings Caves
Mole Creek Karst National Park
Cataract Gorge
Cradle Mountain-Lake St Clair National Park
Mount Field National Park
---
6 day tour of Tasmania
Circle Tasmania
Hobart – Freycinet National Park – Launceston – Stanley –Cradle Mountain – Strahan – Hobart:
6 days drive:
Visit Hobart's convict history before heading to Freycinet National Park and the perfect curve of Wineglass Bay.
Swim in St Helens and do the Bay of Fires Walk in Mount William National Park. Look over Launceston from Cataract Gorge and cycle along Devonport's waterfront. Visit the World Heritage-listed wilderness of Cradle Mountain - Lake St. Clair National Park.
Stay in Strahan and cruise the Gordon River or white water raft the Franklin. Walk from waterfalls and fern forests to ski fields in Mount Field National Park. From the tranquil beaches of Tasmania's east to the rugged mountains flanking the west, this circle will leave you spellbound.
Day 1 - Hobart to Freycinet National Park:
Cruise or kayak Hobart's Derwent river, wander the bustlingSalamanca Markets on a Saturday morning and wander past the 19th century sandstone warehouses of Sullivan's Cove. Traveling north, take in breathtaking views of Great Oyster Bay and Maria Island before stopping near Swansea for freshly made jams.
Then head toFreycinet National Park, where you can do a short walk or challenging hike to the top of Mount Amos for breathtaking views of Wineglass Bay, Mount Freycinet and Mount Graham.
Cruise past birds, whales and dolphins and sea kayak under the red granite cliffs of the Hazards Ranges. Camp here or spend the night in nearby Coles Bay, Bicheno or Swansea.
Day 2 - Freycinet National Park to Launceston.
Stop off at St Helens to swim, surf and enjoy fresh seafood.
Head to rugged Mount William National Park, where the Bay of Fires Walk winds you past boulder-covered beaches, unique plants, native animals and ancient Aboriginal middens.
Pass through the tin-mining town of Derby and contented cows of Scottsdale before reaching Launceston. Take in panoramic views of the city from Cataract Gorge, where you can cross a suspension bridge above raging waters or ride on the world's longest single span chairlifts.
Afterwards, taste cool climate wines on a tour of the Tamar Valley and pamper yourself at the local spa.
Day 3 - Launceston to Stanley:
Browse art and craft galleries in historic Deloraine, murals in Sheffield and antique shops in Latrobe. Arrive in Devonport, where the Spirit of Tasmania ships are almost landmarks.
Walk or cycle along the waterfront, surf at The Bluff and row or sail the Mersey River. Don't miss Narawntapu National Park, where kangaroos, wallabies, wombats and pademelons graze peacefully on the grass.
Meander through the coastal gems of Ulverstone, Burnie and tulip-filled Wynyard. Stop in Stanley, a fishing village framed by the volcanic outcrop known as 'The Nut'. See seal and fairy penguins around the port and walk or take the chairlift to the top of the headland for sweeping coastal views.
Day 4 – Stanley to Cradle Mountain:
Soothe your soul in the World Heritage-listed wilderness of Cradle Mountain - Lake St. Clair National Park. Climb Cradle Mountain, walk around the mirrored waters of Dove Lake or trek the famous 65-kilometre Overland Track all the way to Lake St Clair.
Soar over the park on a scenic flight, go fly fishing and feed wallabies, wombats and possums on a nocturnal wildlife tour. Stay overnight in simple cabins, or just outside the park in mountain lodges.
Day 5 - Cradle Mountain to Strahan:
Follow the road than 90 bends down into Queenstown, once the world's richest gold and copper mine, or arrive on a scenic rack-and-pinion railway.
Explore the former sliver mining town of Zeehan before looping back to Strahan, the gateway to Tasmania's World Heritage-listed wild west.
Cruise down the Gordon River or white water raft the Franklin River in Franklin-Gordon Wild Rivers National Park. Back in Strahan, you can kayak on Macquarie Harbour, walk t Ocean Beach and explore pine and myrtle forests by four wheel drive.
Take a flight over ancient Huon forests in a sea plane or relax and indulge in great food and wine.
Day 6 - Strahan to Hobart:
Drive the Lyell Highway, back through the heart of Tasmania's World Heritage-listed wilderness.
Stop in Tarraleah, an old hydro-electric town where platypus, quolls, wallabies, wombats, Tasmanian devils and echidnas wander the streets.
Take a side trip to Mount Field National Park, where you can bushwalk through lush fern forests to the spectacular Russell Falls and Lady Barron Falls. You can cross-country ski past windswept snow gums on the highland plateaus. Before you reach Hobart, check out classic village square and antique stores of New Norfolk.
---
Three Great Days in Hobart, Tamania
Soak up sea air, creative culture and colonial history in Hobart, which sits on the wide Derwent River, below Mount Wellington.
Walking is the best way to see the city's sandstone and waterways, from bustling Salamanca Market to the fishing docks. Stop to taste Hobart's fabulous food and wine in the streets of Salamanca Place or along North Hobart's restaurant strip.
Explore Mount Wellington on mountain bike or foot or kayak past the city's wharves at twilight. Just south of the city lies Kettering and Bruny Island. Spend a day walking its beaches, countryside and cliff tops.
Day 1: Historic Hobart
Start your Hobart holiday in Salamanca Place, where the rows of Georgian sandstone warehouses have been converted into galleries, theatres, restaurants and cutting-edge boutiques.
On Saturday mornings you can browse the Salamanca Market for fresh local produce and fine Tasmanian arts and craft. Have brunch Salamanca Square.
Check out the grand old mansions and simple fishermen's cottages lining Hobart's oldest suburb of Battery Point. See Kelly's Steps, built in 1839 and explore the area's scandalous history on a ghost tour.
See century-old trees and the world's only sub-Antarctic plant house in Royal Tasmanian Botanical Gardens. Head to the harbour for a seafood dinner, see the Tasmanian Symphony Orchestra play in Australia's oldest theatre or listen to live jazz in one of the bars in Salamanca Place.
Day 2: Mount Wellington:
Mount Wellington is a 30-minute drive to the 1,270 metre summit. You'll be spellbound by the soaring views over Hobart, Bruny Island, South Arm and the Tasman Peninsula.
Hike through the Pipeline Track or follow the Lenah Valley Track to Sphinx Rock. See the Octopus Tree, the forest's tallest tree or climb to the pinnacle on a half-day return trip.
Walk to Wellington Falls and abseil or climb the rocky towers of the Organ Pies. Bike ride across the mountain or down it for an exhilarating 21km, past glacial rock formations, sub-alpine flora and temperate rainforest.
Back in Hobart , kayak down the Derwent River at a twilight or cruise to the harbour. From the water, see Hobart landmarks such as the Regatta Grounds, Government House, the Tasman Bridge and the Royal Tasmanian Botanical Gardens.
Have dinner in one of the elegant converted warehouses along Hunter Street.
Day 3: Kettering and Bruny Island:
Drive south from Hobart to the seaside town of Kettering, on the D'Entrecasteaux Channel. Watch yachts and fishing boats on the harbour, and take the car ferry to .
Explore the wild coastline, tall forests and hills on foot, or take a wildlife cruise to see caves and sea cliffs. In breeding season, you can also see short-tailed shearwaters and little penguins at dusk in The Neck Game Reserve.
Climb the timber stairs to the Neck lookout for panoramic views. Then cross over into South Bruny Island, where you can walk the clifftops from Adventure Bay to Penguin Island and Fluted Cape.
Spot pademelons, echidna and wombats, visit the convict-built Cape Bruny lighthouse and trek along the remote white beach of Cloudy Bay. Spend the night in a bed and breakfast or cottage amidst the wilderness.
---
More about Tasmania's Wilderness:
Tasmanian Wilderness
There are 17 National Parks in Tasmania.
Many of these are part of the World Heritage-listed wilderness that makes up 20 per cent of the island.
Climb over the Hazard Ranges and see Wineglass Bay in Freycinet National Park. Visit Dove Lake and trek the Overland Track in Cradle-Mountain-Lake St Clair National Park.
Bushwalk through Gondwanan rainforest and discover the 18th century French garden of Recherche Bay in South West National Park. Take in Russell Falls, swamp gums and ski fields in Mount Field National Park.
Cruise the silent Gordon River and white-water raft down the Franklin in Franklin-Gordon Wild Rivers National Park.
Take five on the Tassie wilderness:
1. Freycinet National Park and Wineglass Bay
Stay in Coles Bay at the entrance to Freycinet National Park and walk to Wineglass Bay.
Photograph the bay and then swim, boat, fish, snorkel, sea kayak and scuba dive from the white beach. Climb, abseil and mountain walk the steep pink and grey granite rocks of the Hazard Ranges. Or follow the day walks along the coastal heathlands.
2. Cradle-Mountain-Lake St Clair National Park
Travel back millions of years in this wilderness only a couple of hours drive from Launceston. Walk round Dove Lake, past waterfalls and through forests of King Billy pines, to the dolomite peaks of Cradle Mountain.
For a real challenge, follow the famous 80 kilometre Overland Track all the way south to Lake St Clair, Australia's deepest natural lake. On the way, pass Mount Ossa, Tasmania's highest mountain, and see a species of beech tree more than 60 million years old.
See the rivers and dense, old-growth rainforest on the Enchanted Walk or take most of the day to climb to the summit. You can also spend one to five hours on one of the other popular walks, including Mount Campbell, Hanson's Peak, Twisted Lakes, Lake Rodway, Lake Lilla and the Ballroom Forest.
Drive from Hobart and see Scotts Peak Dam and Mount Anne, Mount Eliza and the Western Arthurs on the shores of Lake Pedder.
Fly over the park's 608,000 hectares of Gondwanan rainforest, horizontal scrub and rare Huon pine on a scenic flight. Walk across the Gordon Dam wall or abseil down its staggering chasm.
Spot the endangered orange-bellied parrot around Bathurst Harbour between October and March. Weave through moss-covered trees and over giant logs on the short Creepy Crawly Nature Trail.
Or do a day trek around deep, ice-carved Lake Judd. Tackle some of Australia's most challenging terrain on the multi-day Port Davey and South Coast Tracks to remote Melaleuca, where you will need to be collected in a plane.Kayak to Recherche Bay, where you'll find an 18th century French garden surrounded by forest and white beach.
4. Mount Field National Park
Drive an hour from Hobart to see the three tiers of Russell Falls, fern forests and some of the world's tallest trees.
Walk to Lady Barron Falls past Lake Dobson, groves of palm-like pandani and forests of swamp gums on the Lady Barron Falls Circuit.
Climb higher to the highland plateaus and precipices of Tarn Shelf, where you can look over the lakes in the valley below.
In April and May, the mountain slopes are alight with the gold, red and orange leaves of the fagus, Australia's only winter deciduous tree. In the winter months of June to August you'll find small ski fields for cross-country skiing amongst the snow gums and stunted pines.
Gordon River, Tasmania.
5. Franklin-Gordon Wild Rivers National Park:
Cruise down the Gordon River from the west coast fishing village of Strahan. Or drive the Lyell Highway.
Once here you can white-water raft on the Franklin River, Learn how environmental protesters saved this force of nature from being dammed for hydro-electricity along the way.
By boat, you can also coast along the Picton and Huon Rivers almost as far as Hobart. Follow the Donaghys Lookout Walk for views over the Franklin River or mountain tops.
Or take the multi-day Frenchmans Cap Track past button-grass plains, glacial valleys and rainforest of ancient Huon pine and King Billy pine. Your destination is Lake Tahune, under the towering peak of Frenchmans Cap, some of Australia's oldest exposed rock.
Book Early and hire a luxury camper van. The earlier you book, the cheaper the rate.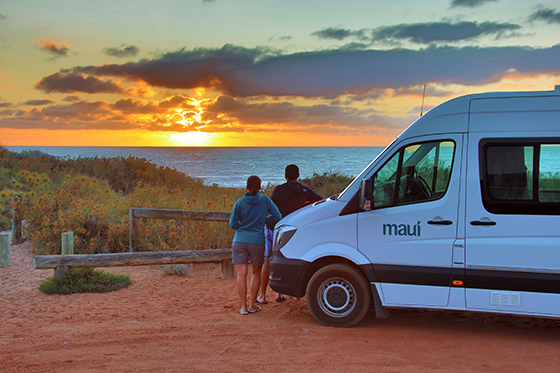 Collect a campervan from Sydney, Melbourne, Hobart in Tasmania, Cairns, Perth, Adelaide, Brisbane,Townsville,Broome,Darwin, Airlie Beach, Byron Bay, Canberra, Devonport, Launceston, Newcastle or the Gold Coast.
Return the campervan to any of the main depots and book a one-way hire to save time and money. There are campervan depots in all the main cities in Australia and many of the smaller towns too.
We offer the Best Online Rates for renting a small or large motorhome.
Discounts on campervan hire in Australia.

Use our booking engine to find out all the costs. Every day special offers and online discounts are added. You will see the discounts deducted from the rates as you go through the booking process.
Contact us at any time. Our friendly reservation staff know all there is to know about renting campervans, motorhomes, hi-tops, low-tops and sleeper cars in Australia.