Top Ten Darwin Sights
During the rainy season you will experience tropical rain, storms and flooding. January is the wettest month but expect heavy rain.
The Dry season is between May and October. October sees the start of spectacular storms with lots of lightening!
You will need a 4wd camper to visit some of these sights in the Northern Territories.
---
Darwin Weather:
Darwin weather: Darwin, unlike other areas of Australia, has two very distinct seasons that are quite different. Darwin is divided by wet/dry" seasons. It's very hot and sunny year-round - although temps in the summer months (Nov-Feb) can reach scorching highs.
At the same time, during the extreme heat comes extreme wetness - the Wet Season runs from November to April and it can get very, very heavy at times. If you want to stay dry and avoid some of the hotter temperatures(the coolest months are June and July and it can even get as low as about 55 degrees - talk about a cold spell!). Visit Darwin between May and September.
Monthly Averages best times to visit Darwin and the Northern Territories in a Campervan:
| Month | High | Low | Rainfall |
| --- | --- | --- | --- |
| April | 30°C | 22°C | 10cm |
| May | 30°C | 20°C | 2cm |
| June | 28°C | 18°C | 1cm |
| July | 28°C | 17°C | 0cm |
| August | 28°C | 18°C | 0cm |
| Sept | 30°C | 21°C | 1cm |
---
3 DAYS IN Darwin
Three Great Days in Darwin, NT
Campsites in Darwin:
Hidden Valley Tourist Park
www.hiddenvalleytouristpark.com.au
25 Hidden Valley Rd
Berrimah NT, Australia
+61 8 8984 2888
Discovery Holiday Parks - Darwin
www.discoveryholidayparks.com.au
11 Farrell Crescent
Winnellie NT, Australia
+61 1800 662 253
---
Discover the best of Darwin on the Timor Sea.
Darwin is a tropical city. Walk or bike ride through the tropical parklands, see Aboriginal art in the museum and taste the city's multicultural mix at Mindil Beach Sunset Markets. Visit Cullen Bay Marina and take a heritage walk round the wharf.
Beyond Darwin's compact CBD, you can cruise next to crocodiles on the Adelaide River and swim beneath waterfalls in Litchfield National Park.
Day 1: Marina to markets to Mitchell Street
Breakfast in Cullen Bay Marina. Then visit nearby Myilly Point Historical Precinct, where the cottages were designed by architect B.C.G. Burnett in the1930s.
Browse Aboriginal artand learn how Cyclone Tracey devastatedDarwinin 1974 in the Museum and Art Gallery of the Northern Territory.
Stop for a picnic lunch in East Point Reserve, home to mangroves, monsoon vine forest and the popular swimming spot of Lake Alexander.
See footage of the World War II air raids on Darwin at East Point Military Museum. Then meander through orchids, bromeliads, cycads and palms in George Brown Botanic Gardens.
VisitMindil Beach Sunset Market, open between May and October, in time to see the sunset over the Timor Sea. Sit down to a plate of steaming Asian food beneath the palm trees, then trawl the bars, pubs and live music venues along Mitchell Street.
Day 2: History, crocodiles and cruising
Start your day on the historic wharf precinct where Japanese bombs first fell during World War II. Visit Parliament House and follow the Historical Walk to various landmarks.
View from Survivors Lookout, then wind down to World War II oil tunnels on the network of walking trails. Visit the pearling exhibition and see a living marine display featuring the coral reefs of the Northern Territory.
Drive part of theNature's Wayto Adelaide River. Visit the Adelaide River Railway Station and see the graves of soldiers who died in World War II in the Adelaide River War Cemetery. Join a jumping crocodile cruise and see prehistoric crocodiles. Drive back to Darwin city and watch sunset over the sea from a cruise around Darwin Harbour.
Day 3: Litchfield National Park
Drive the Nature's Way toLitchfield National Park, monsoon rainforest dotted with crystal-clear swimming holes, thundering waterfalls and tall termite mounds.
Do the easy walk around Wangi Falls and picnic alongside roosting fruit bats. Or hike further to Tolmer Falls for valley views. Swim in Buley Rockhole or the plunge pool beneath Florence Falls. Head off on a 4WD adventure to Tjaynera Falls, the historic Blythe Homestead Ruins and the sandstone domes of The Lost City.
Join a wildlife cruise or fishing trip down the Reynolds River, which borders a working cattle station. Or get a bird's eye view from a helicopter. Head back up the highway, stopping at the Territory Wildlife Park to meet fish, birds-of-prey, nocturnal animals and reptiles. Back in Darwin, relax with an outdoor movie under the stars at the Deckchair Cinema.
The Ancient Art of Kakadu
See ancient Aboriginal rock art sites in our World Heritage-listed wonder.
In amongst the wetlands, wildlife and rugged gorges, World Heritage-listed Kakadu National Park holds one of the highest concentrated areas of rock art in the world. As many as 5,000 Aboriginal sites have been found here, including rock art, shelters, stone tools, grindstones and ceremonial ochre. This detailed, dramatic record of life in Kakadu stretches back more than 50,000 years – from the first evidence of human occupation to the arrival of Europeans.
Aboriginal families camped in rock shelters around Ubirr in Kakadu's north-east, and today you can see paintings of the fish and animals they hunted. Barramundi, catfish, mullet, goannas, turtles, possums and wallabies line the back wall in the main gallery.
You'll also see some of the world's finest examples of X-ray art – where animals' bones and organs are as visible as their exteriors – in this gallery. Other paintings record contact with the first 'whitefellas' in the area, thought to be the early buffalo hunters of the 1880s. One has his hands in his pockets, while another has his hands on his hips and is 'bossing Aboriginal people around'.
Not far from this gallery you'll find paintings of the Namarrgarn Sisters – cunning spirits who live in the stars and can make people sick with a string. In another site in the area you'll see a painting of the Rainbow Serpent that is more than 23,000 years old. This quietly powerful 'boss lady' is known as Garranga'rrelito to the local Gagudju tribe.
At Nourlangie Rock, an outlying formation of the Arnhem Land Escarpment, you can see the crevices cut by Dreamtime ancestors in the form of short-eared rock wallabies. These crevices are still visible today, and rock wallabies are often seen there in the early morning and dusk. In the nearby Anbangang Gallery you'll see a painting of Lightning Man, the Dreamtime ancestor who still controls the violent lightning storms that happen every wet season.
Nearby is Nanguluwu, where acclaimed artist Najombolmi painted a Mimi Dreamtime spirit figure throwing a spear during the 1960s. You'll also see paintings depicting the arrival of Europeans - including one of a two-masted sailing ship with anchor chain and dinghy trailing behind.
According to Dreamtime myth, Mimi spirits were the first ancestors to paint on rock. They passed their knowledge on to some Aboriginal people, while others learned by copying Mimi art. Sometimes ancestral spirits entered rock walls as paintings, turning them into sacred dreaming places.
With the arrival of Europeans and the changing lifestyle of Aboriginal people, the tradition of rock art has been largely succeeded by painting on bark, paper and canvas. Kakadu's most recent rock art was painted in 1986 and the last flurry of activity before that was Najombolmi's work during the 1960s.
Today you can explore this vast cultural treasure trove with a local Aboriginal guide. In amongst Kakadu's lush rainforest lies an epic history of human occupation.
---
Campsites near Kakadu
The park-run campsites have no booking system – places are allocated on a first-come, first-served basis. For camping outside of designated camping areas you will need a camping permit. - See more at: Kakadu Campsites for campervans and motorhomes
---
Kakadu National Park
Come and explore World Heritage-listed Kakadu National Park, around three hours east of Darwin.
Here in Australia's biggest national park, you'll find rugged escarpments, lush rainforest and rock art galleries up to 50,000 years old. Learn about Aboriginal culture from traditional owners the Bininj/Mungguy people. Witness millions of migratory birds amongst the wetlands. See delicate waterlilies and prehistoric crocodiles, thundering waterfalls and sparkling waterholes. Experience Kakadu's magic in six dramatically different seasons. Kakadu is a tapestry of treasures waiting to be explored.
Five ways to take in Kakadu:
1. Rocking out with Aboriginal art
Kakadu is home to one of the world's highest concentration ofAboriginal rock art.
See rock crevices cut by Dreamtime ancestors at Nourlangie Rock. Or view a painting of Lightning Man, the Dreamtime ancestor who still controls the violent wet season lightning storms, in the nearby Anbangang Gallery.
Check out a painting of the Rainbow Serpent and some of the world's finest examples of X-ray art at Ubirr Rock. You'll see hand prints of animals, hunters and Dreamtime figures, as well as shelters, stone tools, grindstones, rock art and ochre for ceremonial paint. Learn how the art depicts Kakadu's social, cultural and natural history on a guided tour or through the interpretative signs.
2. With rare and ancient flora and fauna. Take the Gubarra Pools Walk past sandstone cliffs to monsoon forests or the Bubba Walk through wetlands rimmed with paperbarks, pandanus, cycads and lotus lilies.
See the spectacular Jim Jim Falls which drop more than 250 metres. Cruise the East Alligator River and Yellow Water past crocodiles, barramundi, and birds such as magpie geese, brolgas, jabirus and white-bellied sea eagles. See jacana and jesus birds flying between lily pads. A quarter of all Australian freshwater fish species, and over one third ofAustralian bird speciescan be found in Kakadu.
3. With the spirit of adventure
Four wheel drive to Koolpin Gorge or the base of the Arnhem Land escarpment and camp overnight. Or join a four wheel drive tour to key locations such as Jim Jim Falls and Barramundi Gorge. Take in Kakadu's majesty and size on a scenic flight or catch a barramundi with an experienced sports fishing guide. Glide down East Alligator River on an Aboriginal culture cruise or paddle a canoe to Twin Falls. Bushwalk through monsoonal forest, past waterfalls and clear plunge pools.
4. In tune with the seasons
You need to visit Kakadu more than once to appreciate its dramatically different seasons. The local Bininj people have classified six, beginning with the thundering waterfalls and dazzling lightening of theGudjewg monsoon seasonbetween January and March through to the hot dry weather of the Gurrung months in August and September.
See paperbarks next to billabongs filled with waterbirds in the Banggerreng season of April. Enjoy pleasant temperatures and clear skies in the Wurrgeng cold weather months between June and August. Soak up this changing scenery on a sweeping flight over the landscape or up close on a bushwalk, billabong or river cruise.
5. Driving Nature's Way
Start up the campervan and wind through a wetland wilderness steeped in Aboriginal culture and pioneering history on theNature's Way touring route.
It takes you from World Heritage-listed Kakadu National Park toLitchfield National Parkand Nitmuluk National Park. Canoe down the Katherine River, swim in waterfalls at Litchfield and see the world's largest collection of Aboriginal rock art at Kakadu.
Here you can hike to the top of Gunlom Falls, made famous in the movie Crocodile Dundee as Echo Pool, explore rock pools and cook a campfire meal at the base of Arnhem Land escarpment. For photographic, wildlife and bird watching enthusiasts, this is a dream drive, all on a fully sealed road that suits a two-wheel-drive.
---
Northern Territory
You can lose and find yourself in the Northern Territory, a place rich in Aboriginal history and rugged, natural beauty. Immerse yourself in Darwin's melting pot of cuisines and cultures and explore the rainforest and Aboriginal rock art of World Heritage-listed Kakadu National Park.
Stay in the Red Centre town of Alice Springs, then visit the iconic wonders of Uluṟu-Kata Tjuṯa and Kings Canyon. Cruise down vast Katherine Gorge and pan for gold at Tennant Creek. The Northern Territory also offers a huge array of wildlife, colourful outback characters and landscapes for outdoor adventure.
Soak up Darwin's food and cultures in the city's many outdoor festivals and markets. Then explore the region'sdramatic history– from World Way II air raids to Cyclone Tracey – in the museums and galleries. Sail Darwin harbourat sunset, cruise next to crocodiles and bushwalk through monsoon forest. Do a day trip toLitchfield National Park, where you can swim in crystal-clear waterholes and see thousands of tall termite mounds. Or visit theTiwi Islands, where you can watch traditional weaving and painting or immerse yourself in the noise and excitement of a local football game.
---
Darwin–Litchfield National Park
5 days drive, cruise
Wind through the Adelaide and Mary River wetlands to World Heritage-listed Kakadu National Park. Here you can bushwalk through rugged escarpments and lush rainforest and discover a treasure trove of Aboriginal rock ark. Learn about the Territory's pioneering history in Pine Creek and swim in crystal-clear waterholes in the tarzan landscape of Litchfield National Park. You can do this dream drive on a fully sealed road in a two-wheel-drive vehicle.
Day 1- Darwin to Kakadu National Park
It is a 250-kilometre journey along the Arnhem Highway to Jabiru, the unique town in the middle of World Heritage-listedKakadu National Park. On the way you can stop to explore the wildlife haven of Fogg Dam Conservation Reserve on the lower Adelaide River. Or hold a python and get up close to saltwater crocodiles on a Jumping Crocodile Cruise. Spend the night in Jabiru, which offers a range of accommodation and excursions into Kakadu, as well as an Olympic size swimming pool, tennis courts and golf course.
Day 2 and 3 - Kakadu National Park
Take a couple of days to explore Kakadu's waterfalls, wetlands andAboriginal rock artgalleries.
Go bushwalking, barramundi fishing or spot salt water crocodiles in the wetlands. See the crevices Dreamtime ancestors cut into Nourlangie Rock and some of the world's finest examples of X-ray art at Ubirr Rock in Kakadu's north-east.
Travel through the South Alligator Valley into the less visited stone country in Kakadu's south. Here you can hike to the top of Gunlom Falls, made famous in the movie Crocodile Dundee as Echo Pool. Explore rock pools, cook a campfire meal at the base of Arnhem Land escarpment and camp overnight. Spend your second day cruising through the wetlands with a local Aboriginal guide.
See saltwater crocodiles and birds such as brolgas, jabiru, whistling ducks, radjah shellduck, magpie geese and many species of kingfisher and heron. Afterwards, soar over Kakadu's sights on a scenic flight.
Day 4 - Kakadu National Park to Litchfield National Park
From Jabiru, head south through Pine Creek, and take in the buildings built in the gold rush of the 1870s. Visit the 1888 railway station that is now a museum and marvel at original mining machinery in Miner's Park Bakery. See the galvanised iron ore bakery where Jimmy Ah You and his son once baked bread for World War II soldiers. Then learn more about the area's Chinese history in the National Trust Museum at Pine Creek. Head back onto theExplorer's Wayand stop for the night in Batchelor, a small, well-kept town at the entrance toLitchfield National Park.
Day 5 – Litchfield National Park to Darwin
Swim in swimming holes, see waterfalls and get up close to thousands of tall termite mounds in Litchfield National Park. Swim in the plunge pool at the base of Florence Falls or explore the surrounding monsoon rainforest. Picnic next to roosting fruit bats at Wangi Falls and see sweeping valley views at Tolmer Falls. Take a wildlife cruise on the Reynolds River, part of a bordering working cattle station. At the end of the day, drive the hour-and-a-half back up the highway to Darwin.
Book Early and hire a luxury camper van. The earlier you book, the cheaper the rental rates.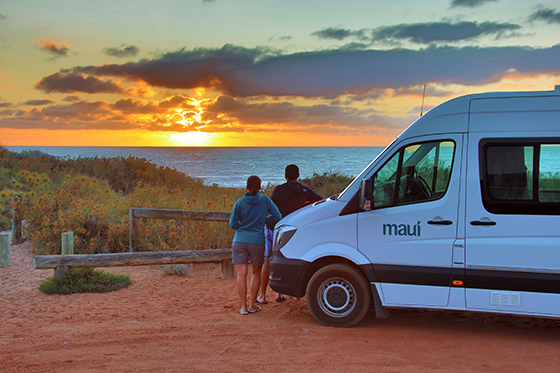 Collect a campervan from Sydney,Melbourne,Hobart in Tasmania,Cairns,Perth, Adelaide,Brisbane,Townsville,Broome,Darwin,Airlie Beach,Byron Bay,Canberra,Devonport, Launceston,Newcastle or theGold Coast.
Return the campervan to any of the main depots and book a one-way hire to save time and money. There are campervan depots in all the main cities in Australia and many of the smaller towns too.
We offer the Best Online Rates for renting a small or large motorhome.
Discounts on campervan hire in Australia.

Use our booking engine to find out all the costs. Every day special offers and online discounts are added. You will see the discounts deducted from the rates as you go through the booking process.
Contact us at any time. Our friendly reservation staff know all there is to know about renting campervans, motorhomes, hi-tops, low-tops and sleeper cars in Australia.